Photo Facial/IPL
Conveniently located to serve Orange County, CA
Intense Pulsed Light technology (IPL) is a treatment breakthrough that can give you the younger-looking skin you'd love to have. Far more effective than creams or so-called "wrinkle lasers", IPL improves the appearance of sun damaged skin on the face and body by treating broken capillaries, age spots, and sun damage with brief treatments and no down time!
How IPL Works
IPL, also known as a photo facial treatment, uses low-level light energy to treat a wide variety of skin conditions. It utilizes multiple wavelengths of light, which makes it quite versatile in treating skin imperfections. It can be safely used to treat numerous skin colors and tones.
Ideal Candidates for IPL
Patients who suffer from skin conditions resulting from sun damage, aging, or sudden physical or hormonal changes are perfect for the IPL treatment. These can include birthmarks, stretch marks, acne, freckles, broken blood vessels, brown spots, dark spots from hormonal changes, skin discoloration, and fine wrinkles.
Unfortunately, IPL treatment is not suitable for cases that involve severe burns, scarring, or chemical damage.
Your IPL Consultation
When patients come in for an IPL photo facial treatment consultation, Dr. Reichner will ask them about the skin issue they would like to address. He will then examine these issues to determine if they can be resolved using the treatment. Additionally, Dr. Reichner will ask patients about their complete medical history to ensure that the treatment is safe for them.
Your IPL Session
During the IPL treatment session, a cooling gel will be applied to the patient's skin. An IPL device will then be used to send light pulses to the affected areas. The treatment will last up to 30 minutes, and the patient will wear protective eyewear during it.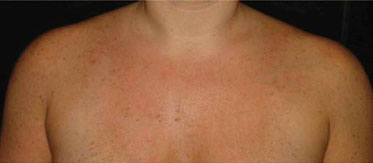 * Individual results may vary.
"
I have been very satisfied with the IPL treatments I have received over the past several years at Spa Aesthetica. My friends have commented how my skin looks so young, soft and clear. They comment over and over about how beautiful my skin appears and strangers also approach me and ask what cosmetics I use to make my skin so clear. Very positive experience!
Read More Testimonials
* Individual results may vary.
Photo Gallery
View before-and-after pictures of real patients of Daniel Reichner, MD, FACS
Your Photo Facial/IPL will be performed in Dr. Reichner's surgery center located in Orange County, CA